Posted by Justin L on 12th Sep 2017

NEW RAZIR 7" Projector Headlight
Introducing the newest addition to the RAZIR LED family. We are changing the look and performance of your Jeep and Harley Davidson with the latest LED projector headlights. The RAZIR-7 retrofit kit comes with everything you need to switch to the completely modern and powerful RAZIR-7 LED lighting system.
RAZIR-7 Black with Halo
RAZIR exclusive Sharp-Beam™ Technology
The smooth and powerful light output features a wide sweep from left to right and no distracting hot spots or lines that create shadows on the road. The light output on low beam leaves nothing to be desired because of the powerful 3,638 Lumens output and the high beam raises the bar to 7,106 Lumens allowing you to light up the road. Custom RAZIR CANBUS LED Driver will ensure that our DRL and LED will ensure a long lasting life with zero issue that other common lights will have such as flickering and burn-outs.
RAZIR-7 Projector Headlights are made from Military-Grade IP67 waterproof aluminum. Heat treated clear Exoglass that will never fade. Our genuine CREE LED will output a brilliant 6000k natural daylight color. 40 wattage for low beam and 80 wattage for high beam. Voltage 8-32v.
The ultimate lighting accessory for Jeep Wranglers, Rubicons and other models or any vehicle that comes with factory 7″ round headlights, either sealed beams or factory composites. Also, it is available for many Harley Davidson motorcycles. RAZIR-7 can replace H6024 PAR56 headlamp. A true Plug and Play kit with included H13 to H4 adapter.
Specs for Original RAZIR-7:
IP67 Waterproof aluminum; Hard-coated polycarbonate lens
3,638 Lumens Low beam; 7,106 Lumens High beam.
Voltage 8-32v
Replacements for 6014, 6015, 6016, H6024 and PAR56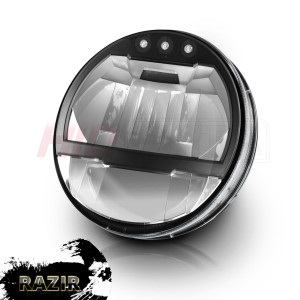 RAZIR-7 Nighthawk Edition
Specs for RAZIR-7 Nighthawk Edition:
Hard-coated polycarbonate lens; Metalized Reflector
2 LED Arrays; 9v-33v Multi-volt design works with both 12v and 24v systems.
1,300 Lumens
Replacement for 6014, 6015, 6016, H6024 and PAR56
DOT approved
Kits are available now at HIDextra.com for your Jeep and Harley Davidson.